Anti-Itch Balm from U.S. Organics
There's nothing worse than having an itch. I mean, that is something that will just keep bugging you and bugging you until you finally scratch it. This time of year is filled with bug bites and sunburn, but personally, I hate putting things on my body that aren't natural. Many of the anti-itch creams you will find in stores contain cortisone and steroids, and I'm just not comfortable using those on myself or my children. Can anyone else relate? If so, I'm pleased to tell you about this great Anti-Itch Balm I had the privilege to try out recently. (I was sent this item free of charge in exchange for my honest review.)
Anti-Itch Balm from U.S. Organics is certified Organic by the USDA and registered with the FDA.  It is an over-the counter treatment for itch, rash, eczema, minor burns, sunburn, insect bites, minor cuts and scraps, atopic dermatitis, and other minor skin irritations. It is made using 100% pure natural ingredients so not only am I thrilled to use it on myself as needed, but I can also use it on my children without worrying. This product is made in USA and not tested on animals.
U.S. Organics was founded in New Jersey in 2011, with the end goal of providing quality natural products in a world where so much is artificially and chemically-produced. Their mission is to provide cosmetics and
SKIN TREATMENTS
that are made safely, using natural ingredients, and which are in harmony with nature. With the best quality ingredients used to make their high quality products, they are proud to provide organic treatments for safe use by anyone.
My jar of Anti-Itch Balm arrived just before we left for a weekend camping trip. I figured this would be the perfect time to try it out….and I was right! The bugs seem to love biting me for some reason, and after the first night I had a number of mosquito bites on my legs. Not only that, but while pushing my stroller in the afternoon, I had a wasp sting my finger (not very clear in the picture above, but my finger was swollen and very sore). I went into our tent and found this balm. Although it doesn't mention wasp stings, I decided to try it on it anyway. I was really happy when almost immediately the stinging feeling started to dissipate  Within 5 minutes it was gone completely. I then rubbed some onto my mosquito bites, and it helped take the itch out of those bites as well.  I've also rubbed this balm onto some
DRY SKIN
patches, and it seems to be helping.
 Overall, I'm really happy with this anti-itch balm. I can feel good about the ingredients AND it works. It doesn't get much better than that!
Buy It:
  It sells for $21.45 for a 1 ounce jar. Also, look for it at Whole Food stores beginning in December.
US ORGANIC PREMIUM ANTI-ITCH BALM
NOTHING COULD BE MORE FRUSTRATING AND IRRITATING THAN BEING UNABLE TO CALM ITCHY SKIN. YOU SCRATCH AND RUB YOUR SKIN UNTIL IT BLEEDS AND SWELLS. IT'S NOT VERY PLEASANT OR COMFORTABLE. WHERE DOES ONE GO TO FIND SAFE AND EFFECTIVE 
RELIEF?
There are numerous over the counter topical products available but are they safe? Many contain harsh and/or toxic ingredients that can cause unknown complications. I've seen ingredients like Magnesium Stearate which is used as a lubricant on machines, so that can't be good on our skin. It's been known to suppress your T cells which are your natural killer cells. How about Isopropyl Palmitate? The dangers of this ingredient include skin irritation and environmental concerns. What about steriods or synthetic steriods? This is a potent drug which absorbs quickly into your skin and can wreak serious havoc with your adrenal system and have long term side effects especially on babies and little children. So that being said, are there safe and sound anti-itch creams available?
US Organic 
Nature for Nature, is an earth friendly company that lives in harmony with mother nature. They recognize that nature can supply us with powerful and healthy ingredients, so their formulas are infused with these safe and gentle elements.
US Organic's has created an ingenious product that is a healthy alternative compared to all other creams available. This innovative cream is one of the best and safest anti-itch creams one the market.  The Anti-Itch cream is certified
The Anti-Itch cream can be used on rashes, eczema, bug bites, skin irritations, sun burns, minor burns, scrapes, small cuts, atopic dermatitis and irritated tissue.
My mother has had an issue with eczema on the palms of her hands for about 10 years now. She has seen a couple of dermatologist in a dire effort to get relief from this extremely persistent skin condition. The products she's used are harsh so she doesn't like to apply them. When I received the Anti-Itch cream, my mother immediately wanted to use it because it was organic. On the very first application she felt instant relief.  The itch subsided and within a few days so did the redness and inflammation. The cream was soothing and did not dry out her skin. My mom was impressed how much better her palms felt.  She has continued to use this cream and says it's the best she has used to date.
The time of year I love to walk around barefoot in the grass and as a result I have lots of mosquito bites and the
odd spider bite. The spider bites are the worst and my skin will react to their bites. I will get welts, redness, swelling and lots of pain in the bite area. I don't usually put anything on because nothing seems to help, I just suffer through it.  I tried the Anti-Itch cream and the itch stopped almost immediately and the redness was about 50% better.  I was surprised how effective it was on bites. We both think this products is amazing and we are very happy that it's a natural remedy for our skin issues. It's a product one should have in their medicine cabinet. US Organic's back up their products with a 100% satisfaction guarantee and I like that.
AN ALL-NATURAL, ORGANIC SOLUTION TO THOSE PESKY SUMMER ITCHIES
When I was a little kid, I just scratched mosquito bites until they bled.  Like a boss. But now that I like to shave my legs, wear breezy dresses, and not  look totally grody, I'm super excited to have found an all-natural salve to help calm the itchies. And it's great for kids and pregnant women, too.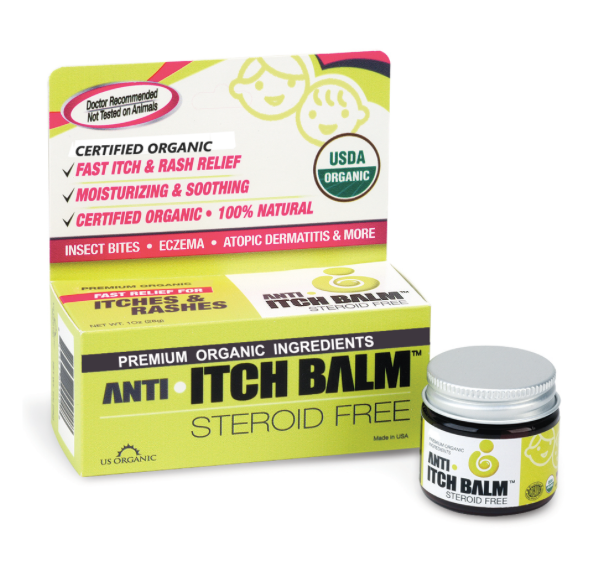 I'd been waiting to test 
Anti Itch Balm
 until I had, you know, an itch. A very  helpful mosquito heard about my plight and proceeded to spend an entire night in  my bed. I woke up clamoring for the little pot of all-natural, organic  ingredients. I followed the directions, rubbing the salve in rapidly for ten  seconds, and much to my surprise, the itchies actually calmed down. Like  magic!
The active ingredient is organic peppermint oil…mmmmmm. Other ingredients  include soothing herbs and oils that will be familiar to anyone who uses natural  products: comfrey, calendula, tamanu oil, chamomile, and more — all in a base  of jojoba oil and shea butter. The scent is definitely herbal, mostly peppermint  with another scent that reminds me of the fenugreek I took when nursing. But in  case that throws you off, it doesn't linger for long.
Of course, the coolest part is that it actually works to calm that "scratch  me now" instinct long enough to let you get back to concentrating — as much as  you can with kids around, heh. This salve is a great alternative to the  cortisone most anti-itch preparations use, especially considering the potential  negative long-term effects steroids can have on babies and kids. So far, I've  used this stuff on mosquito bites, sunburn, and shaving rash, and it's worked  wonderfully. They say it's also good for eczema, atopic dermatitis, and fungal  infections, too. Take that, itchies!
(
link to original
)
SOOTHING ORGANIC ANTI ITCH BALM IS PERFECT FOR SUMMER
The latest product that I've been reviewing is a soothing and natural Anti-Itch Balm from US Organics. 
Anti-Itch Balm
 is an innovative, FDA-registered itch, rash and eczema relief medication. The best part about Anti Itch balm is  that it is  safe and effective on minor burns, sunburn, and minor skin irritations. Anti-Itch Balm can be used for issues such as insect bites, minor cuts and scrapes,  and atopic dermatitis. It also provides rich and intensive skin moisturizing and soothing. This product is made with 
premium organic ingredients
, is 100 percent natural and is safe for all ages, even babies and older adults.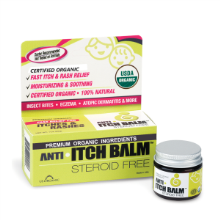 Having an 8 year old who constantly figures out a way to get dirty and maintain a steady collection of scrapes on his knees and elbows, I knew that this product would be put to good use in my home. My son has been playing basketball in a summer camp every day and there's a new scrape on his knees daily. The great outdoors calls to my husband on a regular basis as well, so both of my guys are full of bug bites, scratches and scrapes! I used the Anti-Itch Balm for several days on some bug bites, eczema patches and the basketball injury "du jour" on my son's skin.
My husband applied it to his arms and feet after getting a little too much sun while basking on a boat in Lake Havasu. In both instances, this product made a difference by working quickly and effectively. The bug bites my son had stopped itching within minutes, the redness subsided almost immediately and his little boy scrapes and scuffs are healing nicely. As for my husband and his tomato-hued skin—he said the balm was cool and soothing and promised to use more sunscreen next time.
A big selling point for me with the Anti-Itch Balm is that it is steroid-free and cortisone-free. I am careful and cognizant about what I put on my little guy's skin. It's nice to know that I can use this product often and it doesn't contain any harsh chemicals and with summer now in full swing, I know that there won't be a reprieve from the scratches and scrapes anytime soon. In addition, all of the ingredients and materials used in the Anti-Itch Balm are from US suppliers and the entire  manufacturing process is performed in the US. A few more things to note about the Anti-Itch Balm—it comes in a very small container (one ounce) and the price is around $21, which seems like a high price for such a small product. The positive side is that the web site offers free shipping on all standard US orders, which is a great benefit.
My overall thoughts are that the Anti-Itch Balm is a pretty impressive product in a little package that I'm sure will continue to be used time and time again in this household.
(
link to original
)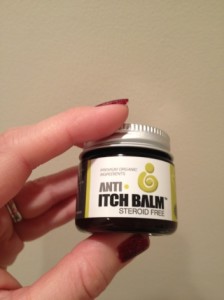 100% pure organic so there is no fear of any toxic ingredients being absorbed into your body.  It's completely safe for all members of your family. It's a thick rich soft green cream that has a slightly medicinal smell that I find soothing.